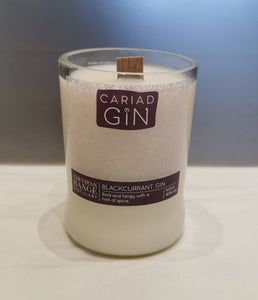 Fragrance Profile - Sweet Cassis, uplifting Bergamot and calming Cyprus Essential Oils, when blended together produce a wonderfully warm Blackcurrant aroma.
Each candle contains natural soy wax for a natural clean burn which is cleaner for our environment. 
Typically our candles have an average net weight of 325 grams with an average burn time of 50 hours.
Each candle is finished with a beech crackle  wick, which gives a gentle crackle and flicker. Our candles are fragranced with paraben fragrance oils for an all together clean burn, giving our candles their beautiful aromas which pair wonderfully with our gin selection.

Whilst it's sad to pour the last drops of your favourite tipple, there's still plenty of life left in each empty bottle. Every bottle used is a recycled bottle which has been given a new lease of life.