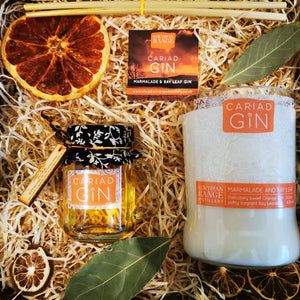 Delicately Sweet Orange Gin with Softly Fragrant  Bayleaves which bring out the absolute best of the fresh citrus fruit.
The sweet tart taste of this wonderful fruit paired with the fragrant aroma and complex flavour of the dried Bay Leaf is like nothing else.
1 x 100ml Marmalade & Bayleaf Gin
Dehydrated Fruit garnish to complement each serve
2 Hay Straws
Serving Suggestion Guide

Natural Soy Crackle Wick Candle - Amber and Sweet Orange
Typically our candles have an average net weight of 325 grams with an average burn time of 50 hours.