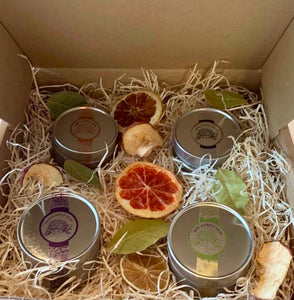 Choosing can be difficult, our Natural Eco Soy Candle Gift set contains our complete range of beautiful candle fragrances.
Amber and Sweet Orange
Fragrance Profile - Velvet Amber, Incense and Musk aromas heightened with sweet Orange, creating and ambience of warmth, sophistication and style.
Lime, Basil and Mandarin
Fragrance Profile - Fresh zesty notes of Lime with undertones of Mandarin and notes of Basil and Herbs.
Plum Rose and Patchouli
Fragrance Profile - Juicy notes of Plum, Cassis and dark rich fruits combined with spices and Cinnamon. Floral notes of Rose and Jasmine are surrounded by Sweet Vanilla and sensual Patchouli.
Sweet Cassis and Bergamot
Sweet Cassis, uplifting Bergamot and calming Essential Oils, when blended together produce a wonderfully warm Blackcurrant aroma.
Each candle contains natural vegan friendly soy wax for a natural clean burn which is cleaner for our environment.
Typically our candles have an average burn time 17 hours.