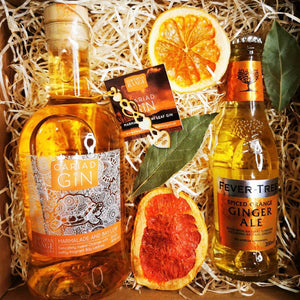 Delicately Sweet Orange Gin with Softly Fragrant  Bayleaves which bring out the absolute best of the fresh citrus fruit.
The sweet tart taste of this wonderful fruit paired with the fragrant aroma and complex flavour of the dried Bay Leaf is like nothing else.
1 x 500ml Marmalade & Bayleaf Gin
Paired with Fever-Tree Spiced Orange Ginger Ale.
Dehydrated Fruit garnish 
2 Hay Straws
Serving suggestion